Hi all,
I'm Kelly from
http://www.kamscraftyplace.blogspot.com/
. I hope you enjoy my creation.
Thank you Sassy for letting me be one of your designers. Whenever I'm on the MB, there seems to be a dislike for Accent Essentials. For me it's one of my go to carts. I wanted to show you how fab it is. I just hope I've suceeded. That's technology for you and I'm quite new to blogging and sometimes not the greatest at doing it.
Here is the album. As you can see it's a shape of a flower. I found some fab paper over here in the U.K. I'm not sure if you have it in the USA. It's only been available for the last 2 months. So I thought flowers and the papers are called Rose Garden. They should work out well.
Here are the papers I used. The great thing about this stack aswell is it had co-ordinating ribbons, tags and lettering at the back of the stack.
As you can see on the Gypsy screen I used hide contour to make sure I had the whole flower not with bits cut out. Thinking about it now I would another time use hide contour to hide the outside line so I could use the inside for photo mats. The flower was 4" x 4".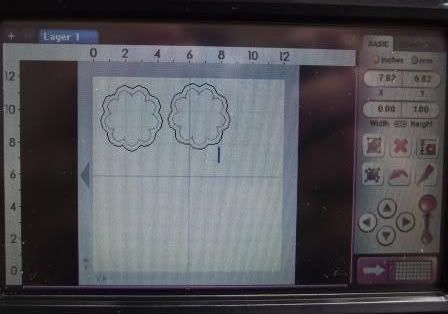 Here is the chipboard cut out. I say chipboard, but it's really a cereal box. It doesn't quite fit 12 x 12 that's why there are only 2 flowers on the Gypsy screen. If you have 12 x 12 chipboard you could put more to cut.
This is all of the paper and chipboard cut out.
So here are the inside papges. I used some of the tags included in the stack. I also have recently fell in love with the Prima flowers and try to use tham as often as I can.
Well I hope you all liked the album. I enjoyed making it. Like anything I make the finishing will be completed once I've added my photos. This is where the Gypsy is fab because I can place my photos on the mat exactly where the cut outs are on my screen. I know I will have fabulous photos cut in the flower shape. Can you tell how much I love my Gypsy yet lol.
Kellyx