Hi all,
I'm glad to be designing for Sheila today. I thought I would share with you how I made a mini album for my ATC's. ATC stands for artist trading card. Artist would make mini works of art that were 2 1/2 inches by 3 1/2 inches and swap them with other artists or give them to prospective clients/sponsors. I got involved with making atc's a few years ago and often participate in swaps. At the moment I'm making some atc's on a Tim Holtz theme, we have to have something by Tim Holtz on the ATC. I thought I would make a mini album using Tim's papers etc ready for when I receive my atc's.
Here are the items I used. I used Tim's Lost and Found papers, 4 white paper bags size 3 1/2inches by 6 1/2 inches, some plain card stock, my atg gun and red sticky tape.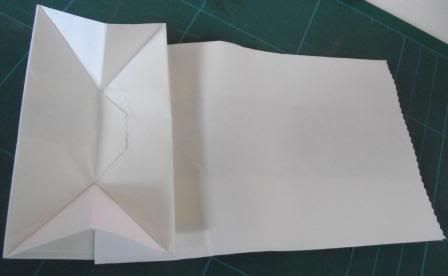 First I folder the points of the bottom in. I then stuck this down so the bottom was half it's size.
I then used my red tape and stuck it as above. I then folded it inwards. This gave me a strong spine.
I did all four the same way. I then attached it all together by the spines. Two of the bags I stuck together all along the whole surface, I then stuck the others together to these two on the spines.
This is difficult to photograph without my hands etc getting in the way.
I then cut the pages and pockets. I cut 2 papers 3 1/2 inches by 4 inches, 2 papers that were 3 1/2 inches by 4 1/4 inches. I then cut to make the pockets 2 papers that were 1 3/4 inches by 4 inches and 2 more 1 3/4 inches by 3 1/2 inches. I stuck the main papers on to make the pages, the longer sided paper 4 1/4 inches is used to cover up part of the spine. To make the pockets I put the red tape on three sides and stuck them down. This will leave room for me to add bits, once I've received the atc's.
Here are the inside pages finished. You can see how there's a pocket to the bottom on one page and to the side on another.
To make the spine, I used a paper 2 3/4 inches by 3 9/16 inches. I stuck the tape as above then stuck one side of the spine down. I then turned it over and repeated. I didn't score it as I wanted it to curve like a book spine.
To finish the cover I stuck the tape on as above. I then cut two pieces of card 4 1/4 inches by 3 9/16 inches. I then stuck it down.
Here is the cover Stuck down. I then used my circle punch to cut half circles out of the pages to make it easier to pull the atc's out.
I put ribbon on the front and back to hide where the spine joins the card. I then threaded ribbon through the spine, ready for adding some charms to it. I then stuck atc on the front, using die cut letters.
To finish the atc lettering off I stickled it with distress stickles faded jeans.
Well that's my tutorial. I will add a lot of the finishing touches once I've made my atc's and received my swap. I will be posting pictures of my ATC's over the next couple of days, so please come and take a look on www.kamscraftyplace.blogspot.com . Just a quick thank you to www.paperphenomenon.blogspot.com. Kathy has some great tutorials on paper bag albums and that's where I adapted mine from.
Next time for She's a sassy lady I'm going to try and make a rose necklace. Fingers crossed what is in my head can actually be made.
Kelly x