Hi Crafting Friends :)
I hope everyone has a great Holiday !!!
I have been ill, so haven't been able to enjoy all the festivities of the Christmas / New Year :(
Not to worry, Today I want to share a card I have made for my Darling Husband, whose Birthday is on the 15th (just before our very own Bobby's from the
Cricut Couple
)
My husband is also my Carer (I'm disabled) and he does a terrific job of taking good care of me, he's my rock, my best friend, my sweetheart and I am so lucky to have him in my life.
So on to the card
This card was designed using CCR, Love struck 2010 and 3 Birds - Life's A Party cartridge's
Not your typical Man Card right LOL!! Hubby appreciates the sentiment, rather than the images...phew !!
First I used Life's A Party for the card base sized at 8.389"
I added another Heart sized at 4" in white
Another in red sized at 3.75" with another sized at 3.208" placed inside to make a frame
Sweet Heart sentiment was sized at 1.528" for the font shadow and 1.472" for the font
The next thing was to add my embellishments using Love Struck 2010 cart.
Kiss was cut at 1.5"
Both lips were cut at .75"
Winged hearts were cut at 2"
Hearts were cut at 1.75" & 1.5" (I flipped the smallest to sit on top of the larger heart)
Cupcake topper banner was cut at 4.931"
Finally the cupcake wrapper was cut at 7" (we have smaller cupcakes here in the UK)
Firstly I scored my heart card in half , then folded one half of one side inward, to form my easel base
Next I added paper Doilies to the cutout section of my frame
I added one of the winged hearts to my cupcake topper and put the 2 hearts together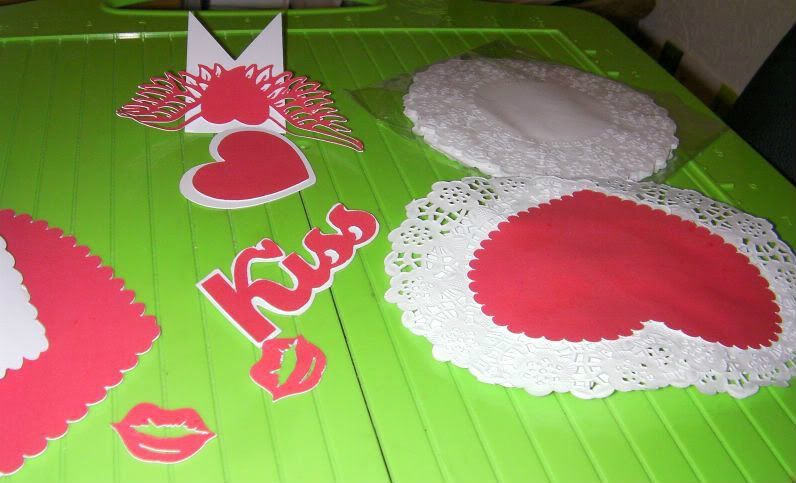 I hadn't used the "Kiss" phrase before and it cut out 3 times around all sections strangely, so I used the centred cutout and hand cut a white base for it.
Here's the cupcake I made for my Hubby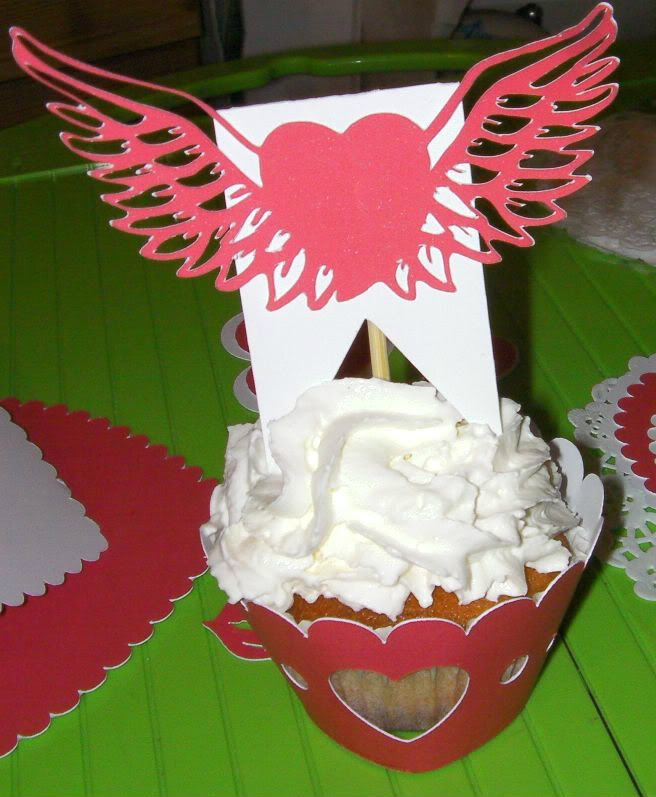 Needless to say it didn't make it to the final picture LOL!! (Good job I made plenty more ;) )
I added the red frame and then added the Sweetheart sentiment to the front of my white heart along with the matching winged heart from the now devoured cupcake :)
Next I glued directly on to the upper facing folded part of my base card
Then I added my framed heart to the adhesive section of the base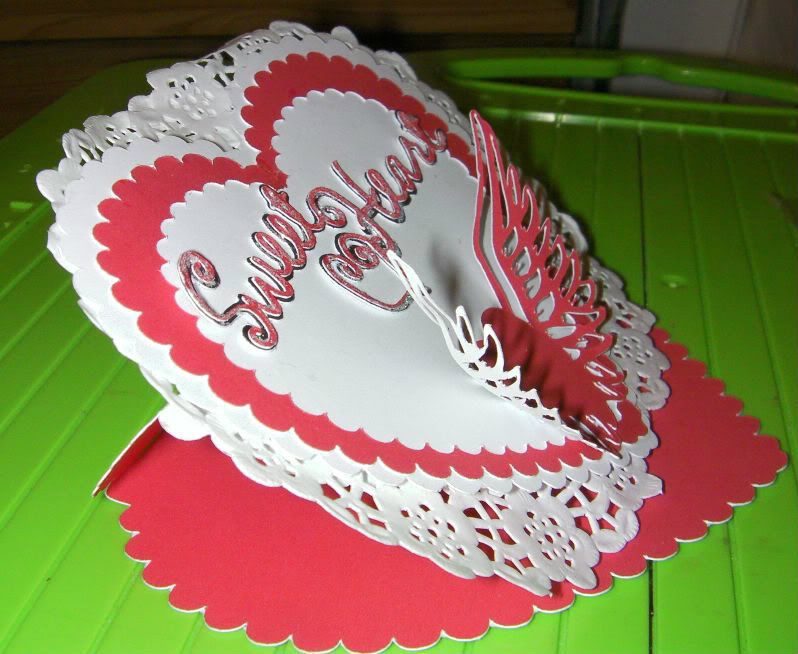 and not forgetting the back
My card was completed by adding the "Kiss" onto the hearts that were pop dotted onto the base to act as the stopper
Thank you Sheila for allowing me to share my little project with you all here today :)
Happy Crafting everyone
Hugs
Adele
WOW! Sheila here...
Now wasn't this a great birthday card? And did you see that yummy cupcake? Love it and just in time for Adele's hubby. As you know I use the month of January to make my cards for the year.... yes I often come up a little short and have to make more but I have great intentions. So
this week I challenge you to make a Birthday Card or a Birthday Layout
to celebrate the birth of someone you love.
Then link it up.... it's that easy and we can all get some really neat ideas if we link up.
Just to make this fun let's have a give away too.
1 Lucky person will win a stamp set,
but you must link up to qualify. All entries must be in by 4 pm on January 20th. The winner will be announced on Sunday morning the 21st.